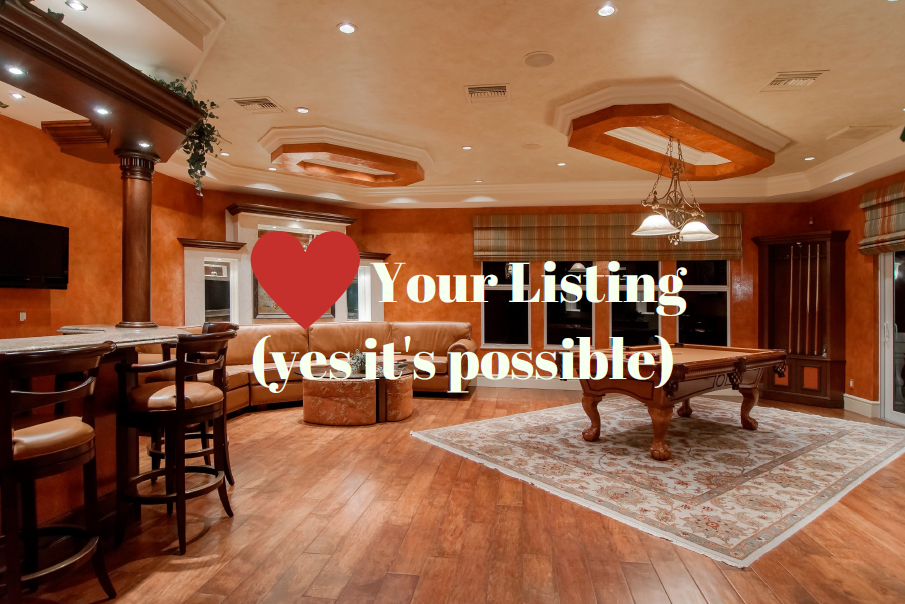 ---
Our approach to selling homes for my clients can be summed up in 3 simple, yet powerful words...love your listing. We want you to love your listing. Why? Because I know that when a home seller loves their listing, there's a great chance potential home buyers will too!
Everything we do in our approach to selling homes revolves around getting as many potential home buyers as possible to fall in love with your home, the same way you did.
Our marketing plan for selling homes is proactive, aggressive, and above all, results-driven. We don't just throw a sign in the yard, put your home on the MLS and hope for the best.We are here to make home buyers fall in love with your home and it all starts with that first impression.
| | |
| --- | --- |
| Sell Your Home With The Kanz Team | Find the Value of Your home in the Rochester Mn Market |
Make Your Home Stand Out with The Kanz Team
If you want Buyers to fall in love with your home, you first need to show them why you loved it. The following is how we go about making sure that happens.
Today's technology makes it easier than ever for consumers to view any listing on the market. As agents, we can enter a home into the MLS, click a button, and watch it automatically appear on Zillow, Trulia, etc.
Unfortunately, that can also make it harder for Buyers to distinguish one listing from another. After a certain point, they all tend to look the same.
We wanted the Kanz Team listings to stand out from the crowd, so we decided to keep pushing.
We have hired a top internet marketing firm to make sure our clients receive the highest and best service available online along with an extensive print media, direct mail and brochure campaigns.
Chris Smith,the owner, is a Best Selling Author on the subject and has appeared on numerous lists as one of the Most Influential People in the Real Estate Industry. This ensures that we stay top of mind on technology, marketing and processes.
The following is a very basic run-down of how we do it. Our professional home stager, professional photographers and videographers are second to none and will use state of the art camera equipment to take stunning HD photos, drone videos, and 3D VR (Virtual Reality) tours of your home.
Home Staging
---
Each property we market is given a thorough walk through, to determine the best way to stage it. If this is a new term to you, "staging" is presenting your home in the best possible light, by assessing (and adjusting, if needed) aspects of furniture placement, wall colors, and even landscaping. Sometimes the way we live in a home is different than the way it should be presented to potential buyers.
---
If there is one thing we know for sure, it's that Buyers want to see rich media... and lots of it.
Every listing we take receives professional photography; that's been a standard of ours for years. We can also provide an amazing drone and 3D Tour and when the listing needs some additional story telling, we'll shoot video for it as well.
We've formed our own production company 819Productions.com to ensure we have the right professionals to make sure our listings have every advantage we can provide over the competition.
Our Website
---

The biggest reason we're able to tell your Property Story is because we can control the presentation of it on our website.
The MLS, listing portals, and most broker sites all pretty much follow the same standard formatting. We're not given the freedom to change too much on sites we don't control.
On TheKanzTeam.com, the shackles have been released and we're free to show your home the way we envision it.
Facebook Marketing
---


Now that we've created your amazing Property Story, how do we get Buyers to our website to see it? We employ a few different strategies, but chief among them is Facebook Marketing.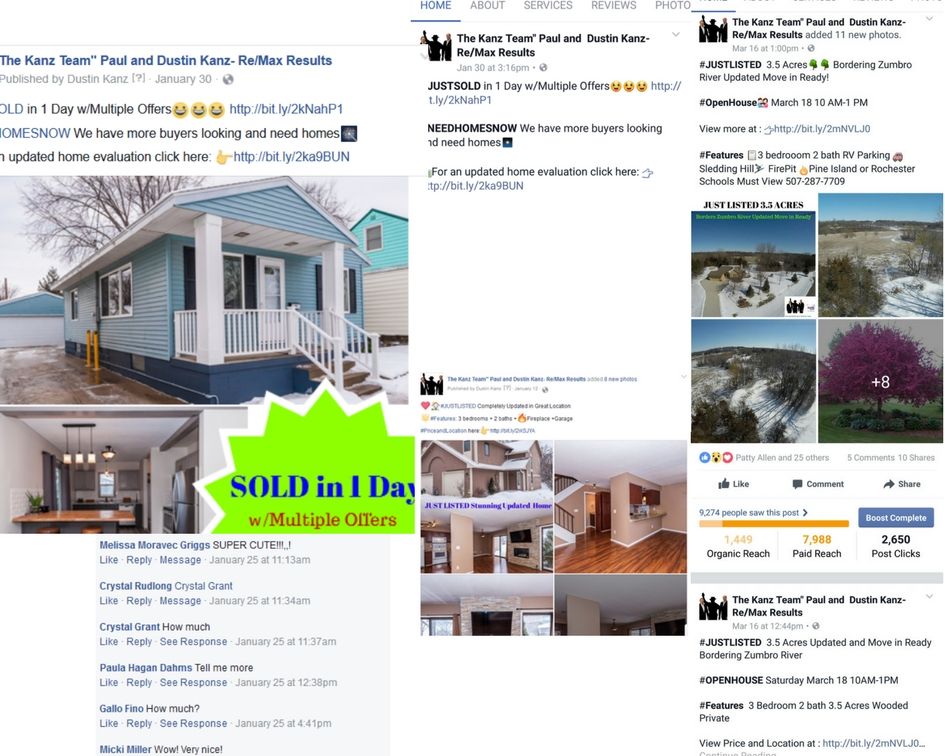 Over a period of just one year, our Facebook ads were seen over 100,000 times. Yes, we said One Hundred Thousand.
We understand people don't go to Facebook to buy a home. But we know the people who are buying homes are on Facebook.
More than once, we've heard stories like: "We weren't looking to buy a home, but we saw your listing on Facebook and realized we had to have it".
Responding to the MOST MOTIVATED BUYERS with a Real Person 24 Hours a Day Within 5 Minutes
---
The most motivated buyers are eagerly searching for the latest properties that hit the market at all different hours of the day. The ones that are willing to leave their phone number to get more information on the home are by far the ones most ready to purchase your home.
The problem is that if they don't get a response (not an automated reply, but a real person that answers their questions) within a few minutes, they are on to the next property, completely dismissing yours. Buyers don't care if they are requesting the information at 3 pm or 3 am. They want the information quickly or they don't want it all.
Listing your property with the Kanz Team, will give your listing the ❤️it deserves. Your home will get a response the way people want a response - quickly and via text. If they want to talk on the phone after getting some information via text, that is how your potential buyer will get responded to, all WITHIN FIVE MINUTES!
Come join the fun and give us a Like.
Results
---


But what you really want to know is: Does it make a difference?
You betcha.
We know that the best way to make sure your home sells for its full value is to make it look great and show it to a lot of people.
With more than 100,000 page views in 2016, our Internet Marketing gave our Sellers that advantage.
That's why more than half of those listings sold within the two weeks.
And why more than half of them sold at, or above, list price.
Not to mention that we set a few neighborhood sales records along the way.
100% Care for My Clients
---
We take great pride in delivering a high level of service to our clients that not only meets their expectations, but exceeds those expectations. But don't just take our words for it, see what our clients have to say in their own words.
View all our clients reviews here!
Sell Your Home
---
Your home is special, so the way it's presented should reflect that. You don't just have a "3BD 2.5BA." Every home has a unique story and I offer your home a unique voice that will stand out, while beautifully showcasing the features buyers want to see.
Are you ready for your to get MOVING? Are you ready to Love Your Listing?
Call: 507) 287-7709
Email: [email protected]
Chat: That little circle right down there in the corner :-)
| | |
| --- | --- |
| Curious but Not Sure? | Sign Me Up Now!! |
| | |
---
FREQUENTLY ASKED QUESTIONS
Are there things we should do to our home to help ensure the maximum price?
Yes. There is a benefit to making sure your home looks its best prior to offering it for sale. There are also small remodeling jobs that will pay off at resale. I can advise you about specific improvements that will increase your home's marketability and value.
How often will you advertise our property?
I don't just list homes; I market them. I will make sure your home is marketed to potential buyers around the clock, 24 hours a day, 7 days a week. I will customize a marketing plan to reach the types of buyers most likely to purchase your home. I know how to maximize the power of the Internet for my clients, while also using traditional methods including newspaper ads, brochures, yard signs, and direct mail.
Will you be present at all showings?
At open houses I or a member of my team will be there. For showings, potential buyers will bring their own agents to see your home. Most buyers prefer only their own agents be present when evaluating a prospective new home.
What if another agent tells us they can get us more for the house?
Some agents will quote a higher listing price just to get your business, but an overpriced house will not sell. If you choose to work with me, I will conduct a comparative market analysis prior to recommending an asking price for your home. I will explain how I arrived at the price, but ultimately the decision is up to you. I will offer my professional opinion on how the market will value your home.
What happens once we get an offer?
I will help you consider each offer and negotiate the best deal for your. Once you've accepted an offer, I will guide you through the entire closing process and ensure everything proceeds smoothly.